Easy Career Decision Making Tool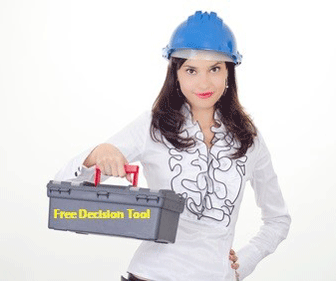 The personality, aptitude and IQ tests may help you in making a career decision.
But they are not perfect…
…it is only you, your values and your desires which can help you in selecting a right career which you will never regret.
I have been using this free tool to make many of my decisions in life. Believe me I have never erred in making a right decision. I don't feel ashamed to admit that sometimes I was swayed with others' opinions to take a different route that this nifty guided me and I was a loser at end of the day.
So…
I advise you to take your time to make your career decision with this tool. Take a quick tour. Use the tool in different moods to be sure of your choices. Provide answers honestly and you will be able to find a golden decision which no aptitude or personality test can provide you.
Click the button below to start Choose It!

Connect with Your Passion with a Career Choice Test
Problems in Making a good career Choice

How to avoid mistakes in career decision
Dear Visitors
I have just launched a Shopify Store "Manocat". To celebrate its grand opening I am offering HARD GOODS (Single Item each) Absolutely Free. You just pay shipping and Handling and I shall send your selected product to your given mailing address.