Do you need to take a flight aptitude test before becoming a pilot?
The answer to that question depends on what type of pilot you wish to be come. If you simply want to obtain your Private Pilot's Licence or become a commercial pilot, you don't need to take a flight test. However, that doesn't mean it is not a good idea. Here we will learn more about the armed forces requirements and what the test involves too.
Why the need to take a flight aptitude test?
There is one reason for taking a flying aptitude test, but with differing objectives depending on your intentions. If you want to get a private pilot's license or become a commercial pilot, it is a good idea to take a flying aptitude test. This can tell you whether you are suited to such goal and what skills you may need to improve upon. If you want to become a military pilot, the other objective is financial.
In any walk of life it costs money to train as a pilot. As a military pilot that cost is even greater. From a financial standpoint, taking a flight aptitude test becomes imperative. If you fail your flying aptitude test the chances are you will not make a good pilot. In knowing that, the services are unlikely to risk spending a lot of money on potentially wasted training.
This aptitude test is not intended as a means to deny you the right to become a pilot. It is more a case of establishing if you are capable of becoming one. If not, then the options to remain within the same environment are still broad and wide. In basic terms, it is not easy to become a pilot and because of the cost involved, the success rate of all trainee pilots needs to be as high as possible.
Of course that is not all, depending on which armed services you wish to join. In the USA, before you can join any armed service, you have to pass your ASQT, or Armed Services Qualification Test. If you wish to become an Air Force or Navy Pilot, then you will also want to do well in your ASVAB or Armed Services Vocational Aptitude Battery. However in the UK there is no initial test required to be taken before joining any of the armed forces.
However, like the USA, there are aviation aptitude tests that have to be passed before you will be considered for pilot training in the UK.
What does flight aptitude testing test and what tests are there?
The following is a list provided courtesy of the USAC that will give you a clear indication of the subject areas tackled in a military flight aptitude test:
- Synonyms
- Verbal Analogies
- Reading Comprehension
- Arithmetic Reasoning
- Math Knowledge
- Data Interpretation
- Mechanical Comprehension
- Electrical Maze
- Scale Reading
- Instrument Comprehension
- Block Counting
- Table Reading
- Aviation Information
- Nautical Information
- Rotated Blocks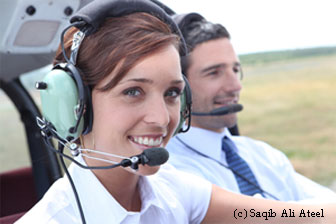 - General Science
- Hidden Figures
- Background Information
- Self-Description
- Biographical Inventory
- Complex Movements
- Cyclic Orientation
- Spatial Apperception.
This is a comprehensive list, but do not be put off...
 Like so many aptitude tests today, there are always trial examples available to familiarize yourself with the type of questions. As with every test you take at school, it is usual to take trial tests before hand to gain a better understanding of what is required. This certainly applies to the flight aptitude test.
In the USA there is not one singular flying aptitude test. The one you take will depend on which area of the services you wish to join. The AFOQT or Air Force Officer Qualifying test is self-explanatory. It comprises 380 questions and lasts four and a half hours. The AFAST, or Alternate Flight Aptitude Selection Test, is taken by those who want to become a helicopter pilot in the Air Force. This test comprises 200 questions and lasts seventy minutes.
Finally there is the Navy and Marine Corps Aviation Selection Test Battery. This flight aptitude test is used by the US Marine Corps, the Army and the Coast Guard when choosing appropriate officer candidates for flight training. This flight aptitude test has 208 questions and lasts for 90 minutes. This particular test is also used by the Air Force as an additional selection process for the OCS program.
If you have ever watched a display flight like the Thunder birds in the USA or the Red Arrows in the UK, you will easily see why not everyone can become a pilot. These pilots may be the best of the best, but those who don't make it to that level are still remarkable people. Anyone who becomes a pilot in the armed forces deserves total respect for the job they do and the people they protect.
---
Practice with Free Aptitude Tests
---
Share Your Thoughts!
We find value in differences between learning, interpreting and overall opinions. Please share your thoughts freely about this topic, but always remain respectful. Thank you for your contribution.