What You Need to Know about the ASVAB Test?
You know the military service means going through the ASVAB Test first? The Armed Services Vocational Aptitude Battery Test is the standard tool used by the American Government in evaluating applicants to the Military, Navy, Coast Guard and the Air Force.
A multi-battery exam -that is, it's several tests in one - can help vocational counselors to advice their high school clients whether they're fit for life in the armed services. It can also assist the military in assigning applicants to various sections of armed services they're most qualified for.
This test is a typical college aptitude test. It is considered, to some extent, that applying for armed forces is like applying to traditional colleges. It means the ASVAB test measures verbal and quantitative ability: two standard metrics of mental capacity. The test has sections on word knowledge and paragraph comprehension, as well arithmetic reasoning and math knowledge.
But unlike the typical school entrance test, the ASVAB test contains sections on general sciences (Biology, Chemistry, Astronomy, Physics, etc.), as well as applied sciences like auto and shop Information, mechanical comprehension, electronics' information and assembling objects. At first, this fact may seem surprising, for what would the military do with biologists and chemists? But the comprehensive range of tests shows that the armed services need not just combat soldiers, but also people who can help perform technical duties, such as maintenance of artillery, surveillance, and communication, as well as clerical duties.
It's worth noting that all sections of the ASVAB test are time-pressured, with 15 to 30 questions to be handled within 11 minutes. The test is available in pen and pencil format (generally reserved for high school students who are taking the test mainly for vocational discernment) as well as computerized format. Be sure to advice the test-taker if you have preferences. 
You never fail ASVAB test...

The test may sound intimidating. No one fails the ASVAB test. It should be a source of relief for anyone whose dream has always been to pass an armed forces test. After all, it's every citizen's right, privilege and duty to serve his or her own country, and the state must not discriminate against people who want to enlist just because of their aptitude in specific knowledge areas. But low aggregate scores may mean that you will not get assigned to duties perceived to require higher mental ability and skill. For instance, getting assigned work in surveillance and communications means you must have had a high score in verbal ability, arithmetic reasoning, and auto and shop.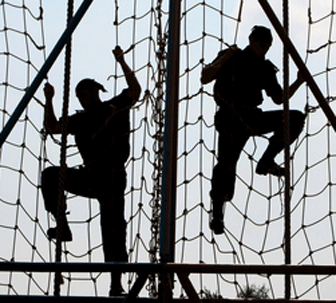 Getting assigned combat duties require high scores in Verbal Expression (makes sense, imagine what will happen to a soldier who can't express his thoughts well!), Auto and Shop and Mechanical Comprehension. Thus, the higher an applicant scores in all the nine subtests of the ASVAB, the higher his or her options for duty assignment once accepted. If you only pass one or two of the subtests, your duties may be limited to just a couple of military departments.

But do note: if your score belongs to the 10th percentile or less (this means that 90% of the applicants who took the test with you scored higher than you do), you may need a legal exception to enlist. By law, the US military must secure direction from superior officers before accepting an applicant who scored in the bottom 10% of every batch.
The good news is: if you do make it, but you get assigned work you're not keen on, there are in-service versions of the test. You can always re-take the exam after getting in if you want to qualify for a service whose test score quota you didn't meet before. Note though that unlimited ASVAB re-takes are only allowed once you've already been accepted to the service. Before acceptance of the force, your scores are valid for two years.
Some sections of the armed services also refuse ASVAB test re-takes unless there are exceptional circumstances to justify an exception.  
---
---
Share Your Thoughts!
We find value in differences between learning, interpreting and overall opinions. Please share your thoughts freely about this topic, but always remain respectful. You can preview and edit on the next page before your submission is sent in. You will also be informed about this site's privacy policies.

Thank you for your contribution.