All You Wanted to Know About GRE Exam
It's time to head off to the grad school, and suddenly everybody is talking about the GRE. So, if you have never heard of the GRE examination before, you must be wondering what it is. In that case, this is the perfect place to be right now because here you will get to know everything there is about the GRE examination or GRE tests.
1.    What is GRE Examination?
The GRE is one of the different standardized tests which must be taken and passed to become eligible for a particular job or learning institute. GRE stands for Graduate Record Examinations, and this test is one of the primary requirements to get into most of the graduate schools across the US.
2.    Who is the Developer and Administrator of GRE?
The GRE has been developed and administered by the Educational Testing Service.
3.    What is the GRE used for?
The purpose of the GRE is to grant the qualifiers of this exam a place in the Masters or Doctoral programs in the different non-business schools. Recently, many of the business schools have also started accepting results from this examination as part of the admission criteria.
Students must note that it is only a general test that has been formulated to judge the different applicants on the same basic level of learning skills. The overall academic qualification and ability that is decided with this test help the schools compare the applicants with the same gauge.
Students coming from different backgrounds and under-graduate schools apply to the same graduate schools. The GRE, therefore, becomes a fair test to select students of the same level. You must bear in mind, though, that it is not the only evaluation that you will be required to clear before getting accepted; there might be others, but GRE still stands to be one of the most crucial ones.
Students, who cannot boast high college GPA, can still aim to do exceptionally well in the GRE to open up new avenues for them. So if your college GPA is not something that you are very proud of, you still have a chance to outshine those who are with high GRE scores.
What Skills/Abilities are Tested Through the GRE?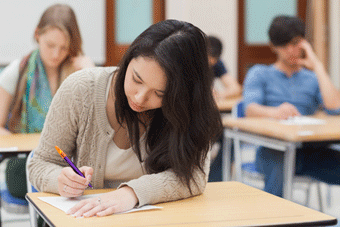 GRE is a basic and general test and is, therefore, not going to test the student for any specialized skill or specific subject. The abilities that are going to be tested through this exam are verbal reasoning, quantitative reasoning, critical thinking and analytical writing. These are skills that students have developed over the course of years going through high school and college.
Although the test does not measure your skill specified to the discipline you are trying to join, it will, however, gauge your aptitude and potential to succeed in the future during your graduate program.
a.    Verbal Reasoning Assessment
This part of the test will be assessing you on your reading comprehension skills by asking you to analyze the provided written material.
b.    Quantitative Reasoning Assessment
Here your math skills will come in handy. You will be tested on how you can interpret the data and the quantitative problems presented to you. This part of the test is not going to assess you in detail but it is going to cover problem solving, quantitative comparisons and of course data interpretation.
c.    Analytical Writing
This part of the test also covers critical thinking besides assessing the analytical writing skills. Complex ideas are given and candidates are asked to articulate them effectively by supporting it with relevant ideas. You will need to stay focused to reason out your argument. Besides critical thinking and writing, your basic English grammar skills are going to be judged.
How is GRE Exam Scored?
The quantitative part of the test, as well as the verbal section, together carry scores from 130 – 170, given in 1 point increments. Both these tests carry heavyweight as far as getting accepted in graduate schools is concerned. The last part of the test has a scorecard ranging from 0-6. 
How Long is the GRE Test?
It takes a little less than 4 hours to give the GRE. Extra time is also given for reading instructions and breaks. 
As you see, GRE exam holds a lot of value when getting into grad school so you shouldn't aim at clearing them but at acing them so that you are placed amongst the other top contenders. 
---
Practice with Free College Admission Tests
---
Share Your Thoughts!
We find value in differences between learning, interpreting and overall opinions. Please share your thoughts freely about this topic, but always remain respectful. You can preview and edit on the next page before your submission is sent in. You will also be informed about this site's privacy policies. Thank you for your contribution.
What Other Visitors Have Expressed
Click below to see contributions from other visitors to this page...

What Course for Math Studies?

Hello,I am a post graduate student in maths with 55% I want to know my options which course I can pursue from a foreign university? Which course will be …