Interview Tips That Can Save You
While job interviews can seem daunting for the first timers, they can still be challenging for those who are more experienced as well. And whether the interview is for a job or to get an admission into an institute, there are some basic do's and don'ts that have to be kept in mind in order to be successful. For those about to face an interview, this article will prove to be especially helpful since it brings forth some really valuable interview tips. Find out what they are and build yourself a better future.
The Do's and Don'ts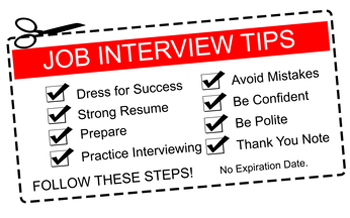 There is nothing that gives a more bold impression about your personality than your clothing. If you think you are ready for this next step in life, then you must be able to judge what kind of dressing would be appropriate for an interview in that institution. Your attire should speak of your clean habits, your graceful countenance and your mature sense of style.
With your attire, your hair and everything about you should also give a tidy impression. For example, your teeth, your breath, your nails and even eyes should spell your impeccable hygienic habits.
As important as giving a neat and tidy appearance is reaching the venue on time. You can aim to reach early but not late. It can never be in your favour to arrive late. To avoid delays it is best to keep some time for unforeseeable hiccups. You can always get stuck up in a traffic jam, your car can break down or the roads can be blocked. Always leave early to keep some time to tackle with unpredictable glitches.
Coming late to the institute or being late for the appointment time shows disrespect not only to the institute but to the honorable individuals sitting in on the interview. It also shows your lack of seriousness about the choice of your future.
Do your research about the subject that you are about to take up or the company that you are about to join. You must be very sure about the reasons for which you want to join that particular institute. A good part of the interview comprises of questions regarding your particular choice. So take the time out and make use of loads of information that has been provided on the internet.
It will also help to know a thing or two about the individual(s) who will be conducting the interview. If you don't already have this information, it can always be inquired from the interview.
The list of interview tips cannot be complete without mentioning the appropriate behavior. Remember that you are going to perform much better if you stay calm and collected. Cool down before you go for your interview and keep in mind that you are simply going to meet new people. Don't be intimidated by their personalities or the name of the institute, although you should bear respect for both of them.
Practice Your Body Language
Before going on the interview, do practice talking, walking and even sitting in front of the interviewer(s). You should be confident but not arrogant. Similarly, you should have a pleasant style of speaking but at the same time, you should not joke around or be overtly frank with the interviewer(s).
Don't walk in the interview room with something to eat or drink in your hand. Again, this shows disrespect and a non-serious attitude. It is also going to prevent you from remaining focused at the task.
More Interview Tips
Restrict the Use of Personal Phone
One of the things that often get left out of the various interview tips is the use of personal phone during interview. Your phone should be turned to silent during your interview. Inform people back at home to leave a message in case of emergency. Texting or receiving calls in between interview will tarnish your image.
One thing you must remember is to walk up straight to the desk of the interviewer and to greet him/her properly. In case of multiple people sitting in for the interview, shake hands with everyone and not just with the person sitting centremost.
Thank Everyone for the Interview
Regardless of how your interview went, you should always get up and thank everyone for the chance of giving an interview. You never know, it might leave a lasting positive information.
An interview, whether it is for a job or an academic institution should always be taken seriously so make good use of interview tips provided above.
---
Practice with Free Aptitude Tests
---
Share Your Thoughts!
We find value in differences between learning, interpreting and overall opinions. Please share your thoughts freely about this topic, but always remain respectful. Thank you for your contribution.