Take a Skill Assessment Test to Know Where You'll Fit
Hone Your Best Skills and Be Happy, Productive and Unique
 Know Not Just Where You're Good At, But Where You're Great At with Skill Assessment

Too many students go through college applications without even taking a skill assessment test. Similarly, many would-be employees job-hunt while waiting for the hiring people to assess one's skill strengths. When these happen, what you have is a sad waste of time. Instead of being able to take a beeline to the course or position that will make you excel, you end up wasting time trying on universities and companies that wouldn't fit. 
The thing is: a skill analysis is not that hard to do. Everyone should be able to do one without exerting much effort --- or even spending a bit of cash!
What is a Skill?

A skill is defined as any proficiency that you acquire through birth, experience or training. Anything that you can do with a degree of ability or expertise can be considered as a skill. If you're good at diffusing conflicts, then it's likely that you have excellent skills. If you're good at fixing broken appliances, then chances are, you have excellent mechanical skills. And if you excel at writing and orating, then you have well-developed language skills.
It has been proven time and time again that people perform best when they are given tasks that fit their current skill set or at least functions that challenge their potential skills.  True, there's merit to being out of one's comfort zone once in a while, but still, a lot can be said about a job or study that's best fitted to one's inherent skills. For one, it makes a person more motivated if there's affirmation that one is excelling in one's work. But more importantly, research shows that your skills often correspond to your interests: that is, you like the things that you're skilled in. The last thing is a teacher or an employer wants is a resistant student or staff respectively, and a skill appraisal is an excellent way to avoid those who would have to be dragged to perform.
How to Make your Skill Assessment?

The simplest way is through careful reflection.  Take more than just a moment to meditate on what you can do well purposefully, and list them on a piece of paper. When you do this kind of assessment, remember that it's important to be realistic about your skills. Don't amplify what you're not yet good at, but at the same time, don't be too hard on yourself. Everyone has skills to offer; it's just a matter of an excellent"figuring out" moment.
If you want to have some structure to your skill assessment exercise, feel free to avail of existing guidelines and worksheet available online. One of the most straightforward skill appraisal exercises is a list of the many different skills (e.g., acting, influencing, purchasing), and you as respondent being asked to pick the ones you know you're good at. While simple, it's handy, as it helps people to view as skill all the different things they take for granted every day.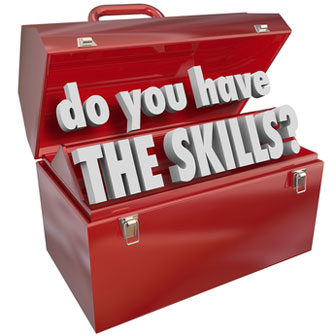 But if you want to have a very detailed output regarding your areas of strengths and areas of weaknesses then avail yourself of standardized skill assessment tests.  These tests are created by practicing psychologists and rigorously tested for validity and reliability. Studies are conducted to check if the results really to correlate with performance as reported by test-takers and observed by third parties. They also test for biases that are commonly associated with test-taking such as lying or priming effect.
Where can you find these standardized skill appraisal tools? Just use your directory to find your local psychometrician, and he or she will direct you to the skill analysis test best fitted to your needs. If you have a friend who is a Human Resource practitioner, then it's likely that he or she can help you out as well. Or you can take the test online from a reputable website. Note though that the better tests are often the ones that come with a charge. But if you're thorough in your search, you'll be able to find one that's free but as good as the expensive one.
---
Practice with Free Aptitude Tests
---
Share Your Thoughts!
We find value in differences between learning, interpreting and overall opinions. Please share your thoughts freely about this topic, but always remain respectful. You can preview and edit on the next page before your submission is sent in. You will also be informed about this site's privacy policies.

Thank you for your contribution.