IQ Rating Scale Deciphered!
It is genuinely romantic to think of an IQ rating scale to qualify ourselves with a particular level of intelligence. However, any reading of the scale is merely a mathematical expression. 
The psychologists attempt to calculate your mental age in comparison to your chronological age. You may have a mental age of 30 years at the chronological age of 14 years or vice versa. The results help psychologists to screen out the best candidates for a particular job.  
Prof. Lewis M. Terman labeled IQ rating scale as "Intelligent Quotient"  while publishing "The Measurement of Intelligence,"  in 1916 to revise and enlarge the Binet-Simon Intelligence Scale. He was working on students' intelligence, so he calculated that the average child of any age has an IQ of 100. 
Nowadays, the psychologists standardize their IQ scales on various sections of a particular age group to test their intelligence quotient. The test results help them to compare you with other job applicants while maintaining controlled environments to allow equal opportunity to all.  
You can stand out of the competitors with your alertness of mind. 
The IQ scales help the managers to consolidate their opinions regarding a selection of candidates besides avoiding lousy hire. 
Original IQ Rating Scale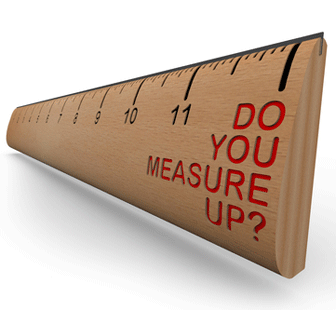 The classical IQ rating scale is somewhat different from the modern day psychometrics. However, it laid a foundation for all fantasies related to the romantic side of the IQ tests. A lot of water has gone through the bridges, yet the influence of Terman on IQ rating scales can't be ignored. His original IQ scale shows the following categories: 
IQ Ratings of Over 140 --Genius or near genius

IQ Ratings of 120 to 140--Highly intelligent

IQ Ratings of 110 to 119    --Very intelligent

IQ Rating of 90 to 109 --Normal or average intelligence

IQ Ratings of 80 to 89 --    Dullness

IQ Rating of 70-79 --Borderline deficiency

IQ Ratings below 70    --Mentally underdeveloped 
Modern psychologists prefer to criticize Terman for showing whites achieving better results vis-a-vis blacks. However, we must not ignore that he was assisting the public sector education in 1916 and priority was the white population. Furthermore, the selection was restricted to the better off families who could afford to send their children to school at that time. We must not ignore the financial and social impact as socially deprived people of Indians, Mexicans and Blacks performed equally bad on Term's IQ rating scale.
In my opinion, Terman should be appreciated for his conclusion basing on his experiments that the women have the same level of intelligence as the men have.  Furthermore, psychologists have been trying their best to remove other cultural biases, yet a lot is still to be done. 
Distribution OF IQ Score
Despite all criticism, majority of the IQ rating scales still follow similar kind of categorization to distribute the test takers regarding their IQ scores:
50% of IQ scores fall between 90 and 110
70% of IQ scores fall between 85 and 115
95% of IQ scores fall between 70 and 130
99.5% of IQ scores fall between 60 and 140
5% of people have an IQ below 70
The last 5% population demands special attention. Luckily very little part of this minority falls into the most challenging position. There are further four levels of mental retardation.
50-70 - Mild mental retardation (85%)

35-50 - Moderate mental retardation (10%)

20-35 - Severe mental retardation it is (4%)

I0 - 20 - Profound mental retardation (1%)
High IQ Rating Scale
When you score considerably high score, there are chances of your falling into the category of genius. An IQ scoring of 140 to 145 may qualify you for this group. The psychologists prove that one out of 400 people can have IQ rating to this level. However, the high IQ score has its sub-divisions:
•    IQ Ratings OF 115-124 Above average
•    IQ Rating OF 125-134 Gifted
•    IQ Ratings OF 135-144 Highly gifted
•    IQ Score OF 145-164 Genius
•    IQ Scoring OF 165-179 High genius
•    IQ Scoring OF 180-200 Highest genius
•    IQ Scoring OF 200 or above    Immeasurable genius."
The modern IQ tests generate scores for different fields as language fluency, three-dimensional thinking and the summary score calculated from sub-test scores. On the other hand, the intelligence quotient is an ambiguous measure of the ability and power of the brain.
I don't know how was it calculated, but Einstein is considered one of the people having the highest IQ score. Myths claim him having an IQ score of 160. Another myth says he had used only 10% of his brain to give theory of relativity. 
I am not sure which myth is more romantic, yet I am convinced that your IQ score is a direct result of your knowledge, skills and and practice with the IQ tests. Admittedly, your mental alertness can stand you out. 
Please keep in mind, a high 'Intelligence Quotient' is no guarantee that you will succeed in your life. It gives you an edge over others yet you need to have emotional intelligence to succeed in the long run.

---
Practice with Free IQ Tests
---
Share Your Thoughts!
We find value in differences between learning, interpreting and overall opinions. Please share your thoughts freely about this topic, but always remain respectful. You can preview and edit on the next page before your submission is sent in. You will also be informed about this site's privacy policies. Thank you for your contribution.
What Other Visitors Have Expressed
Click below to see contributions from other visitors to this page...